E-Smart is the innovative system with integrated Wi-Fi that connects stoves and inserts burning boilers in the EK63 range to the home Wi-Fi network.
Heating can be simply and intuitively managed from the display, using the SmartEK63 App, or else the optional remote control.
E-Smart is the heating system that caters to your lifestyle, in and outside the home!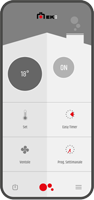 Display and App
The products in the EK63 pellet range (stoves and inserts) can be managed directly from the display on-board or by remote using the SmartEK63 App.
The main functions:
• Integrated Wi-Fi to manage heating by remote.
• AUTOMATIC or MANUAL operation: in automatic mode, the desired comfort level is simply set and the power automatically adapts. In manual mode, the power is set directly.
• RELAX function, hot air ventilation that can be deactivated.
• Confort clima (STBY – Stand-by), the stove switches off at the desired temperature.
• Fire Control, automatic combustion modulation to avoid wastage.
• FAN regulation with 3 different speeds.
• Time Programmer,desired ON/OFF times.
• EASY TIMER function, simplification of delayed ON/OFF programming.
Alternatively, the pellet stoves can be managed via an optional remote control.
N.B. The minimum system requirements to use the SmartEK63 App on mobile devices are the following:
• Operating System iOS 14 or higher or Android 9.0 or higher.
• On iPhone 6S, 7 and 8, the "zoom" function of the display cannot be used.
Moreover, we would like to inform you that HUAWEI devices (and associated brands, such as: HONOR), are not compatible with the SmartEK63 App.
This information may be subject to changes or updates.